Cooler Bag Inspecioin - Work Seriously Make Perfect
18-04-2019
On 17th April, Daysun sales manager Cathy went to factory to inspect the cooler bag production.
We have a talk with her. What she advised let us know Only Work Seriously Make Perfect.
Host: Cathy, as we konw, you often go to factory to follow the order process, could you share
some thoughts with us about this?
Cathy: When I start my work in Daysun in 2008, I was following the orders from Teachair,
which is our long cooperated customer, when I go to factory with customers to inspect the products,
I know many points which is important for customers, and if there is some problem we found in production,
we could ask production team to adjust immidiately. That make me realize that inspection is very important.
Host: Daysun factory have an inspector to inspect all the production before shipping, why you come for inspecting
by yourself again.
Cathy: As my experience, sales know all the production details most clearly, so I also usually ask our colleague
to go to factory for inspection by themselves, and it is a really good situation now that our sales team now
often come to factory for an inspection.
Host: It is also very important that sales check or learn details from production team, could you let us know
how you do in this aspect?
Cathy: When I receive a project, I usually look through all the details, and will have a meeting with our
production manager for all these details, if there are still some confused which we don't know but could
receive some information from supplier, we also check with suppliers, then give customers feedback,
to do like this, the whole process will be quicker, and customer could receive professional suggestion as well.
From these short talking with Cathy, we could know Cathy always take her work seriously and keep that in mind
to provide customer best product and service. Work Seriously Make Perfect.
When we are going to have a sleep on this day, Cathy just come back home.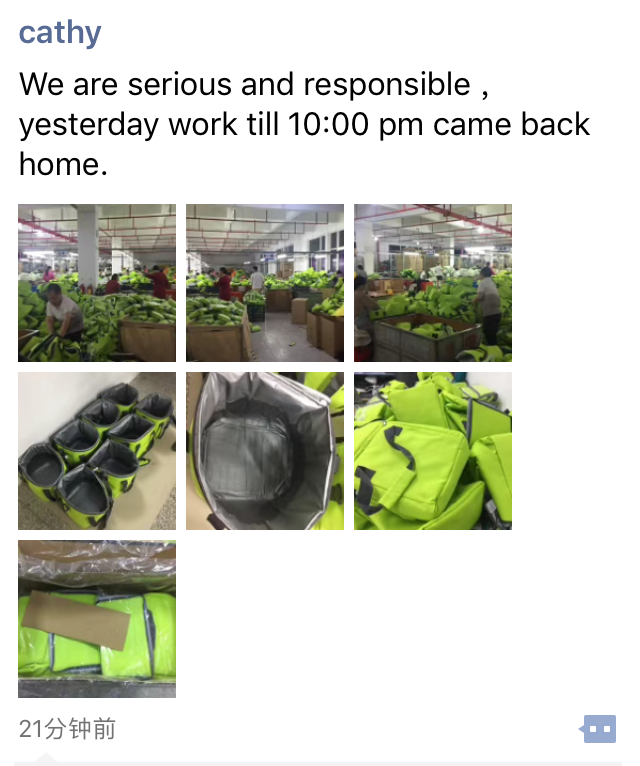 Daysun Team will always provide professional production and best service, Diaper bag, Picnic bag,
Cooler Bag etc., look forward to work you.